RENTAL
---
Simultaneous Translation Equipment
Leasing of interpretation equipment
We can provide you with the simultaneous interpretation equipment in Santiago or regions of Chile that you need.
Rental service for simultaneous translation equipment
The simultaneous translation equipment we make available to you is of high quality and has proven its efficiency in hundreds of international congresses and conferences in Chile and other Latin American countries.
The rental of simultaneous translation equipment consists of translation receivers for each of the attendees of your event (you determine this number) plus the interpretation booth, transmitters and corresponding microphones for interpreters and speakers, in addition to the necessary amplification equipment (loudspeakers). If you have some of these elements, we would be happy to quote for the remaining equipment.
A very important point is that we also provide qualified, well-treated and very competent sound technicians for the installation/uninstallation of sound systems and booths and supervision of the external sound quality and for simultaneous interpretation during your event. Also, we put to your disposition to assistants for the delivery of receivers of simultaneous interpretation for all the assistants of your event.
Thus, with our interpreting equipment and staff, you can be absolutely sure that your international event will be in good hands. Thus, you can focus on your company's valuable activities, while we take care of the success of your international conference. Our conference interpreters actively cooperate with the sound and receiver delivery staff as well, emphasizing that you hire a group of professionals, not just an outsourcing company.
The rental of a booth and translation/interpretation receivers is calculated according to the volume you require. We can manage the installation of several booths per room (in case you require relay interpretation), as well as manage the rental of 50, 100 or 1000 simultaneous interpretation receivers for Santiago and regions in Chile.
Our simultaneous interpretation and translation agency works together with you to make your international conference leave a very pleasant impression on those who attend. And all this we provide you with high quality standards, an excellent treatment and very competitive fees, to establish a win-win relationship with you.

words: Rental of interpretation equipment las condes, Rental of simultaneous translation equipment santiago, Rental service of simultaneous translation equipment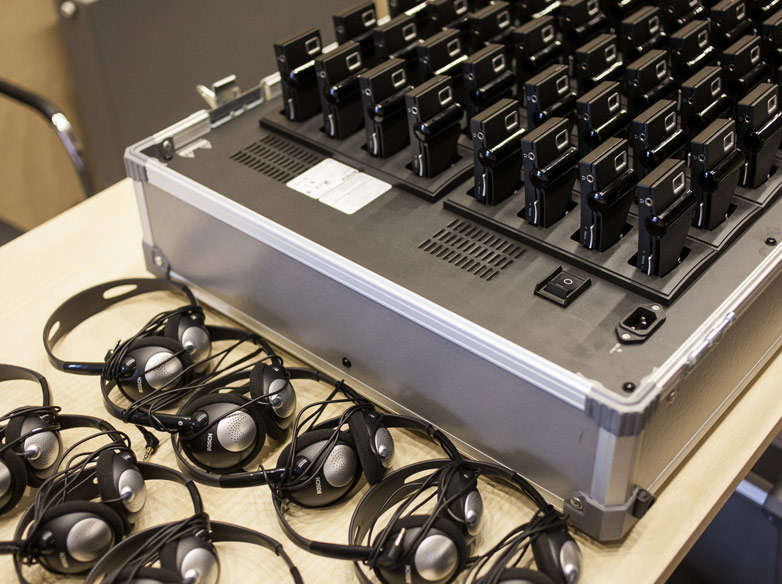 Rental of simultaneous translation equipment